Intelligence économique : vers une nouvelle dynamique de recherche
In spite of its media coverage, Competitive Intelligence remains a hard-to-grasp process. Its impossible defining is coexistent with its syncretic nature. As it bases itself on the misunderstood culture of intelligence, it is, as a consequence, a source of both worry and reassurance in France. It has nevertheless been judged mandatory, has been elevated to the rank of public policy and is now being developed within firms, slowly but surely. Constantly on the lookout for new operating concepts, Competitive Intelligence is established on field-based methodologies that require strong theoretical foundations. It has to be analyzed as a relative advantage through a model of both agility and paralysis. In order for it to operate, the intelligence concept must be understood and used in a more systemic frame which would link it with action through knowledge : it is a passage from noticing to sensemaking. An ever-working Competitive Intelligence system, focusing on analysis, will therefore put into motion a strategic community of knowledge wherein communication will appear as the centre of attention.
Bien que médiatique, l'intelligence économique reste une dynamique difficile à saisir. Son impossible définition est consubstantielle à son caractère syncrétique. S'appuyant, en France, sur une culture du renseignement mal comprise, elle inquiète autant qu'elle rassure. Pourtant jugée indispensable, elle a été élevée au rang de politique publique et se développe, lentement mais sûrement, au sein des entreprises. Dynamique à la recherche de ses concepts opératoires, l'intelligence économique s'appuie sur des méthodologies issues du terrain qui demandent une assise théorique forte. À travers le couple agilité/paralysie, l'intelligence doit être analysée comme un avantage relatif. Pour y être opératoire, le concept d'information doit être compris et utilisé dans un cadre plus systémique qui le relie à l'action via la connaissance : c'est le passage du « savoir pour agir » au « connaître est agir ». En éveil permanent et tourné vers l'analyse, un dispositif d'intelligence économique mettra alors idéalement en œuvre une communauté stratégique de connaissance dans laquelle la communication apparaît comme centrale.
Fichier principal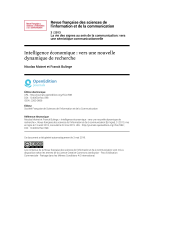 rfsic-598.pdf (233.53 Ko)
Télécharger le fichier
Origin : Publisher files allowed on an open archive