ANR Translit. Bilan scientifique de la tâche 2. Analyse des dispositifs et des usages.
Task 2 of the ANR TRANSLIT project consisted of a series of observations on several education grounds, mainly in high schools, through various schemes : supervised personal work, school travel, digital projects, etc. In this perspective, we used qualitative methods with ethnographic observations and interviews. A quantitative survey in 4 academies has completed this data collection work to measure the place of digital activities at school and out of school. Field research methods are based on a single protocol that takes into account interactions, decision-making and information sharing practices among peers. The aim of the research was to provide knowledge about information practices and literacies in the activity and to identify recurring and homological principles between fields of observation.
La Tâche 2 du projet ANR TRANSLIT a consisté en un ensemble d'enquêtes sur des terrains de l'éducation, essentiellement en lycée, à travers divers dispositifs : travaux personnels encadrés, voyage scolaire, projet numérique d'élèves, etc. Pour ce faire, nous avons utilisé les méthodes de l'analyse qualitative d'observations et d'entretiens. Une enquête quantitative auprès de quatre académies a complété ce travail de recueil des données pour mesurer la place du numérique à l'école et hors l'école. Les enquêtes de terrain reposent sur un seul et même protocole considérant les interactions, les prises de décision et les modes de pratiques informationnelles partagées entre les pairs. Il s'agissait d'apporter une connaissance sur ce que sont les pratiques et les littératies informationnelles dans l'activité et de pouvoir repérer des principes récurrents et homologiques entre terrains d'observation.
Fichier principal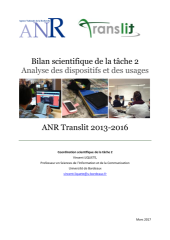 Bilan ANR Translit T2 170317.pdf (2.86 Mo)
Télécharger le fichier
Bilan scientifique ANR Translit T2_Annexes.pdf (919.24 Ko)
Télécharger le fichier
Bilan scientifique ANR Translit T2_Publications.pdf (2.81 Mo)
Télécharger le fichier
Origin : Files produced by the author(s)
Origin : Files produced by the author(s)
Origin : Files produced by the author(s)