De l'identité numérique à l'individu transmédiatique
Digital identity is a concept in social sciences that is questioning computer-mediated relationships and economic strategies. The presentation of self borrows some storytelling processes. The editorial mode of web services helps to build a narrative identity: it has even become a competitive argument between Facebook, Google and other actors. In fact, teenagers partly drive their socialization via many digital devices and apparatus (social network sites, mobile app, chatroom, instant messaging and so on).So, we propose to talk about transmedia identity, like those newly narrative universes distributed among medias.But the teenagers' digital uses are quite awkward, and require education. Faced with these stakes, School and public institutions must shape a strong digital transliteracy.
L'identité numérique est un concept en sciences sociale permettant de questionner les relations interindividuelles médiatisées par ordinateur, et faisant l'objet de stratégies économiques. De manière générale, la présentation de soi emprunte des processus narratifs. Le mode éditorial des services web permet de construire une identité narrative. Ce mode est d'ailleurs un enjeu concurrentiel entre des acteurs comme Facebook et Google. Mais en réalité, les adolescents conduisent leur socialisation à travers une multiplicité de plateformes et appareils (réseaux socionumériques, téléphones mobiles, applications de conversation privée, etc.). Nous proposons alors de parler d'une part d'individu transmédiatique, à la manière de ces contenus fictionnels distribués par les grands studios de l'audiovisuel à travers plusieurs médias. Cependant, les usages transmédiatiques des adolescents restent maladroits, et à l'aune des enjeux que cela implique, il est nécessaire d'accompagner leur pratique avec un véritable programme éducatif.
Fichier principal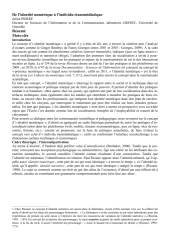 De l'identité numérique à l'individu transmédiatique-Vdef.pdf (136.91 Ko)
Télécharger le fichier
Origin : Files produced by the author(s)