« Effets correcteurs » de l'Open Scholarly Communication
The principles of the open science movement are spreading to the practices of disseminating research results. By making their results accessible and open, research communities allow others to support their statements and their research through non-monetized access, thus facilitating the advancement of knowledge and its free circulation. However, scientific news is regularly punctuated by scientific misconduct, particularly due to the drift of research evaluation based on quantitative criteria. By observing the research ecosystem, in particular its New Public Management (NPM) and accountability, our text takes into account the possible corrective effects of Open Scholarly communication according to four axes: open peer review, the editorial policy of journals, community curation and alternative metrics.
Les principes du mouvement de la science ouverte se répandent dans les pratiques de diffusion des résultats de la recherche. En rendant accessibles et ouverts leurs résultats, les communautés de recherche permettraient à d'autres d'étayer leurs propos, leurs recherches via un accès non monétisé facilitant ainsi l'avancée des connaissances et leur libre circulation. Pourtant, l'actualité scientifique s'émaille régulièrement de méconduites scientifiques issues notamment de dérives d'une évaluation de la recherche reposant sur des critères quantitatifs. En observant l'écosystème de la recherche, notamment son New Public Management (NPM) et son accountability, notre texte rend compte des possibles effets correcteurs de l'Open Scholarly communication selon quatre axes : l'open peer review, la politique éditoriale des revues, la curation communautaire et les métriques alternatives.
Fichier principal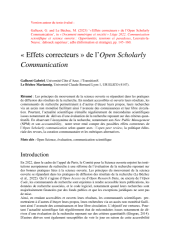 chapdocsoc2022_Effets correcteurs_Gallezot-LeBéchec-2023.pdf (340.65 Ko)
Télécharger le fichier
Origin : Files produced by the author(s)