Gender and Class in Online Funeral Tributes : Survey of a Memorial Platform
Le genre et la classe des hommages funéraires en ligne.
Online funeral tributes are subject to differentiated use by gender and social class. A quantitative and qualitative survey, paired with the study of an online memorial website, highlights the feminine and popular component that emerges from digital uses as part of mourning. The study of the memorial website shows us how gender roles and their territories are reproduced online, in the approach to mourning, expression of emotions, tribute paid to the dead and writing... It also reveals the correlation, in terms of uses and tastes, linking online participation and position in the social hierarchy, with the memorial platform, defined as a space of solidarity and community, distinguishing itself by its popular uses. While online funerary tributes are geared to gender roles and class positions, however, this case study shows how a digital device might contribute to the reconfiguration of masculine and feminine processes of mourning.
Los homenajes funerarios online son usados diferencialmente de acuerdo con el género y la clase social de los usuarios. Una encuesta cuantitativa y cualitativa, así como el estudio de una plataforma memorial, han puesto de manifiesto el componente femenino y popular del uso digital en el contexto de un duelo. El estudio de la plataforma de quejas nos muestra cómo se reproducen online los roles de género y sus territorios en la forma de llorar, expresar emociones, homenajear a los muertos o escribir… También nos muestra la correlación entre la participación online y la pertenencia social en cuanto a usos y gustos, la plataforma memorial, que se define como un espacio de solidaridad y comunidad, distinguiéndose por sus usos populares. Si los homenajes funerarios online se articulan mediante las asignaciones de género y las posiciones de clase, este estudio de caso muestra cómo un dispositivo digital no contribuye, ni siquiera de manera marginal, a reconfigurar el proceso de duelo para hombres y mujeres.
Les hommages funéraires en ligne font l'objet d'usages différenciés selon le genre et la classe sociale. Une enquête quantitative et qualitative ainsi que l'étude d'une plateforme mémorielle ont notamment mis en exergue la composante féminine et populaire qui ressort des usages du numérique dans le cadre d'un deuil. L'étude de la plateforme de doléances nous montre comment les rôles de genre et leurs territoires se reproduisent en ligne dans la manière de porter le deuil, d'exprimer ses émotions, de rendre hommage aux morts et aux mortes ou d'écrire… Elle nous montre aussi la corrélation qui, en matière d'usages et de goûts, lie ici participation en ligne et appartenance sociale; la plateforme mémorielle, qui se définit comme un espace solidaire et communautaire, se distinguant par ses usages populaires. Si les hommages funéraires en ligne s'articulent à des assignations de genre et à des positions de classe, cette étude de cas montre comment un dispositif numérique n'en contribue pas moins, même à la marge, à reconfigurer le processus de deuil au masculin et au féminin.
Fichier principal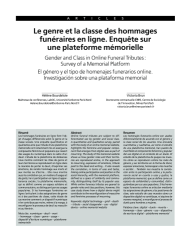 Bourdeloie & Brun_Numero_Genre-ClasseHommages-Fontieres2021.pdf (2.15 Mo)
Télécharger le fichier
Origin : Files produced by the author(s)