L'équation de la sécurité, une analyse systémique des vulnérabilités de l'entreprise : vers un outil de gestion des risques
The security of the firm is generally considered as a job for specialists, so that SIS appears as a major element dedicated to computer engineers. Nevertheless, we expect that security is complex and it must be considered as a holistic problem, as far as it is a systemic and global concept. The issue should be a cultural change of paradigm: security is no longer a final object for specialists but a global, permanent and universal philosophy for everybody inside the firm. From this point of view, competitive intelligence, as a transversal and collective approach, appears to be one of the best way to integrate a global security concept into the firm.
La sécurité en entreprise est généralement abordée selon des approches spécialisées, où la sécurité des systèmes d'information apparaît comme une composante majeure dédiée aux informaticiens. Toutefois, la problématique de sécurité est complexe et mérite selon nous d'être envisagée de manière systémique et globale, approche que nous qualifions d'holistique. Il s'agit en effet de traiter un ensemble de problèmes plus ou moins interactifs dont la résolution passe par une mise en synergie des compétences. L'enjeu est avant tout culturel, il procède d'un changement de paradigme : la sécurité n'est plus un objet finalisé réservé au spécialiste de l'entreprise, elle doit être envisagée dans une optique globale, permanente et universelle par l'ensemble du personnel. De ce point de vue, l'intelligence économique, par son approche transversale et collective, se présente comme une opportunité pour la mise en oeuvre d'un concept de sécurité globale au sein de l'entreprise.
Fichier principal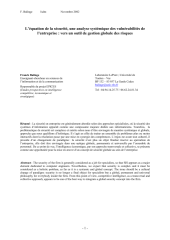 Lequation_de_la_securite_une_analyse_systemique_d-2-9.pdf (152.01 Ko)
Télécharger le fichier
Origin : Files produced by the author(s)