Valeurs olympiques et réseaux sociaux numériques : controverse et utopies
The reflection we are conducting share paradox sports organizations struggle to see references to the Olympic values and virtual communities discuss and superseded. Indeed, spectators of the sports world through social networks convey these that should be (re) at the heart of digital interaction between practitioners and sporting institutions. Our comments are structured as follows: after recalling the foundations of Olympism, we will attempt to show that the values associated with the Olympic spirit - supposed to represent the "backbone", not only of the Olympic organization, but any institution sports - can be considered, in the first analysis, as facets of the archetype of a utopian organization. As a result, after stating some facts that attest to the controversy raised, we will present in the second analysis, that of some institutional sites in conjunction with the International Olympic Committee coupled with the results of a questionnaire survey conducted among a developed community on Facebook over a page entitled "Promotion of Olympic Values" composed of persons who have professional experience in sports. In conclusion, we will return to this need for "good utopia" (Morin, 2015), no doubt, organizations such as the institutions (those who represent them) are struggling increasingly to be translated and which are not found more , quite in the rhetoric or an ambition to think the universal opening in fine as Michel Maffesoli (2015) suggests a "normopathie".
La réflexion que nous menons part du constat suivant : les organisations sportives peinent à afficher des références aux valeurs olympiques et des communautés virtuelles en débattent et s'y substituent. En effet, les spectateurs du monde sportif par le biais des réseaux sociaux véhiculent ces valeurs que l'on devrait (re)trouver au cœur des interactions numériques entre pratiquants et institutions sportives. Nos propos sont structurés comme suit : après avoir rappelé les fondements de l'olympisme, nous tenterons de montrer que les valeurs associées à l'olympisme – censées représenter « la colonne vertébrale », non seulement de l'organisation olympique, mais de toute institution sportive – peuvent être considérées, en première analyse, comme les facettes de l'archétype d'une organisation utopienne. À la suite, après avoir exposé quelques faits qui témoignent de la controverse évoquée, nous présenterons en seconde analyse, celle de certains sites institutionnels en lien avec le comité international olympique couplée aux résultats d'une enquête par questionnaire menée auprès d'une communauté développée sur Facebook autour d'une page intitulée « Promotion des valeurs olympiques » composée de personnes ayant une expérience professionnelle dans le domaine sportif. En conclusion, nous reviendrons sur le besoin de « bonne utopie » (Morin, 2015) que, sans doute, les organisations comme les institutions (i.e. celles et ceux qui les représentent) peinent de plus en plus à traduire et qui ne se retrouvent plus, tout à fait, dans les grands discours ou dans une ambition à penser l'universel ouvrant in fine comme le suggère Michel Maffesoli (2015) sur une « normopathie ».
Fichier principal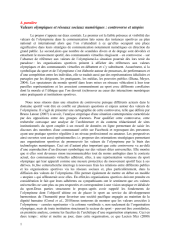 VERSION DEFINITIVE AT COMMET ORGA UTOPIENNE.pdf (420.55 Ko)
Télécharger le fichier
Origin : Files produced by the author(s)