Vision performative des services numériques
Launched by the French Ministry of Higher Education and Research, the operation "digital university in region" (UNR) allowed the deployment of digital services within institutions. Currently, 98% of students have access to a cyberspace (ENT) via a computer and network. The ENTs deployed offers a huge variety of service in education, pedagogy, communication, documentation, office, university life and relationships with companies. Other services, such as mobility and podcast courses have enriched the bouquet of digital services. Today special emphasis is placed on the development of uses of digital technology raises the question of the extent of its use to provide governance of the establishment of quantitative evidence. Hence, measuring its global usage would be useful information for policy makers to make decision on objective data, but would provide also necessary information to guide on digital service customization, digital service maintenance or digital service development strategy. As there was a lack of solution to provide interoperable data or usage indicators, we developed a non-intrusive, open-source and extensible technical solution that can provide usage indicators on a majority of web digital service environment. The tool is settled recursively up in order to provide local, regional or national usage indicators. We will show how the system opens the way to targeted behavioral studies in the context of in a performativity quality approach of digital services provided by educational organizations. The examples of indicators creation will be taken from real situations, that is to say in the context of higher education in France.
Lancée par le Ministère de l'Enseignement Supérieur et de la Recherche, l'opération université numérique en région (UNR) a permis le déploiement de services numériques au sein des établissements. Actuellement, 98% des étudiants disposent d'environnements numériques de travail (ENT) accessibles via les réseaux informatiques des établissements ou depuis l'extérieur. Les principaux services numériques déployés au sein des UNR s'articulent essentiellement autour de la scolarité, la pédagogie, la communication, la documentation, la bureautique, la vie universitaire et les relations avec les entreprises. D'autres services liés, par exemple à la mobilité et au podcast des cours ont enrichi le bouquet de services numériques. Aujourd'hui un accent particulier est mis sur le développement des usages du numérique qui pose la question de la mesure de son utilisation pour offrir à la gouvernance de l'établissement des données factuelles quantitatives. Si l'intérêt de la construction des indicateurs de mesure pose la question du comportement statistique des générations internet il est d'abord utile à différents degrés : tant au niveau du suivi que du pilotage du numérique au sein d'un établissement. De même, les indicateurs sont utiles pour analyser et agir en développant des modes d'accompagnement afin de renforcer les usages. Cependant, la construction effective de ces indicateurs se heurte à des difficultés d'ordre technique, technologique et parfois une certaine frilosité politique. Nous proposons un dispositif ouvert et libre, de génération d'indicateurs enrichis, fort d'une flexibilité de mise en œuvre qui s'appuie sur des référentiels normatifs de description de profils utilisateurs et sur une catégorisation des services en gamme applicative. Ce dispositif, AGIMUS (application de gestion des indicateurs de mesure des usages des services numériques), permet la construction automatique de tableaux de bord aidant la gouvernance à piloter le numérique au niveau : •d'un établissement, •d'un ensemble d'établissements par exemple une UNR ou un PRES, •d'un ensemble d'UNR, •et enfin du ministère. Dans un premier temps les indicateurs remontés couvrent les usages des services et des ressources numériques. Ils sont indépendants des technologies des services applicatifs. Nous montrerons comment le dispositif ouvre la voie à des études comportementales ciblées dans une démarche qualité d'amélioration de la performance des services numériques mis à disposition par une institution. Les exemples d'indicateurs mis en œuvre seront pris sur le terrain : les établissements de l'enseignement supérieur et de la recherche.
Fichier principal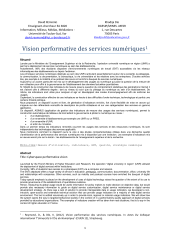 Vision performative des services numériques.pdf (516.64 Ko)
Télécharger le fichier
Origin : Files produced by the author(s)