Sex and communication
L'amour est-il toujours enfant de bohème ?
How to communicate about sex? Perhaps by not reducing it only to the technique of the bodies. The love is undoubtedly the ineffaceable horizon of the sex. More precisely, the agreement of the bodies and the agreement of the hearts are in a relation dialogical, at the same time complementary, concurrent and antagonistic (Morin, 2004).
Comment communiquer sur le sexe ? Sans doute en ne le réduisant pas uniquement à la technique des corps. De même que la métaphysique est l'horizon indépassable des sciences (Besnier, 1996), l'amour est sans doute l'horizon ineffaçable du sexe. Plus précisément, l'accord des corps et l'accord des cœurs sont dans une relation dialogique, à la fois complémentaire, concurrente et antagoniste (Morin, 2004). Or cette relation entre sens et sensible nourrit la communication (Boutaud, Dufour, 2013). Comment alors saisir ensemble le sens et le sensible ? En faisant dialoguer des registres culturels différents pour faire naître « des étincelles d'intelligibilité », propose Philippe Corcuff (2012, p.18). C'est ce que nous allons nous efforcer de faire en puisant dans la culture ordinaire – ici, la chanson française-de quoi mieux comprendre l'intérêt et les limites de la théorie de l'incommunication (Lespastier, 2013). I.
Fichier principal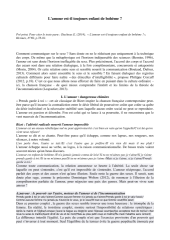 sexeetcommunicationversiondef.pdf (222.45 Ko)
Télécharger le fichier
Origin : Files produced by the author(s)