Veille d'image sur internet : enjeux, méthodes, limites
"Image awareness" consists to identify as soon as possible negative weak signals like rumors or informational attacks. Our work focuses on the analysis of the image of an organization through the Internet. This concept is primarily addressed by consultants. Some of them enhance the risks to sell their services. This paper proposes a more nuanced discourse on the scope "viral" of the Internet. It is based on two case studies which show that the risk of attacks against the image of an organization would not be as announced by major vendors of monitoring softwares. This work reveals the existence of such autoregulated mecanisms like an "invisible hand" that offset the expressed criticisms.
La " veille d'image " consiste, pour une organisation, à identifier le plus en amont possible des signaux faibles négatifs de type rumeur ou attaque informationnelle. Notre travail est centré sur la " veille d'image sur Internet ". Cette notion, qui a fait l'objet de peu de travaux académiques, est surtout abordée par des consultants. Certains d'entre eux forcent le trait du risque encouru pour vendre leurs services. L'objectif de ce papier est de proposer un discours plus nuancé sur la portée " virale " de l'Internet. Cette étude repose sur deux études de cas qui montrent que les risques d'attaques contre l'image d'une organisation ne seraient pas aussi grands qu'annoncés par les vendeurs de logiciels de surveillance. Ce travail met en évidence l'existence d'une logique d'autorégulation qui agit comme une " main invisible " pour contrebalancer les critiques exprimées.
Fichier principal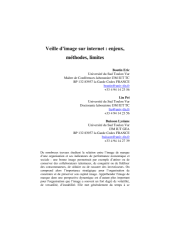 17_COM_ORG_ERB_LP_LB.pdf (328.29 Ko)
Télécharger le fichier
17_veille-d-image-sur-internet-enjeux-methodes-limites.pdf (123.36 Ko)
Télécharger le fichier