Réseaux de loisirs créatifs et nouveaux modes d'apprentissage
The aim of this paper is to demonstrate the educational potential that resides in creative recreation's networks. We show that users have developed different skills. We define these networks with the concept of "associate networks". Users can take part and progress in these networks.
Le but de cet article est de démontrer le potentiel d'apprentissage qui réside dans les réseaux de loisirs créatifs. Nous montrons que les usagers ont développé des compétences au-delà des seules techniques de loisirs-créatifs. Nous qualifions ces réseaux de réseaux associés en nous appuyant sur la définition de Bernard Stiegler pour montrer que les usagers peuvent y prendre part, apprendre et transmettre.
Fichier principal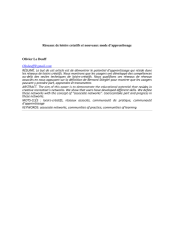 RA_seaux_de_loisirs_crA_atifs_et_nouveauxpreprint.pdf (876.3 Ko)
Télécharger le fichier