Les « trois horloges » de la « société de l'information ». De la disharmonie à la rupture ?
This text gives a relevant analysis of the digital divide. Writen after the World Summitt of the Society Information in Tunis it explains why the rise of the Information technologies and the network mechanisms which characterised the information economy (positive feedback makes the strong grw stronger and the weak weaker) leads to rupture ansd disharmony. In fact our world is influenced by three clocks; the technological which is accelerating, the economical clock which follows the technological one and the human and social one , far behind. Then disharmonies and ruptures characterised our societies.
Ecrit en 2007, après le Sommet Mondial de la Société de l'Information, organisé à Tunis en 2005, ce texte propose une réflexion approfondie et originale. Il a aujourd'hui, en ce début 2011, une pertinence renforcée qui donne à réfléchir sur notre "Société de l'information". Avec la mondialisation, les TIC sont devenues prééminentes. Le « DigiWorld » incluant notamment le secteur des télécommunications, focalisé autour des technologies, connaît une croissance exponentielle. L'horloge technologique rythme la dynamique de la SI à une cadence très élevée. Cette « horloge » imprime le tempo de l'économie mondiale. L'horloge économique suit le mouvement. Les nouvelles lois de l'économie et des réseaux imposent leurs mécanismes. L'économie des réseaux précise en particulier que « les forts se renforcent » et que « les faibles s'affaiblissent ». Inexorablement. La rupture, visible à Tunis en 2005, entre les différents pavillons du Sommet Mondial de la Société de l'Information, est manifeste. La troisième horloge, l'horloge « humaine et sociale » montre qu'une majorité de l'humanité peine à s'approprier les technologies, à les rendre « utilisables ». Cette horloge peut-elle être remise à l'heure ou bien les écarts ne sont-ils pas destinés à s'accroître ? L'essor des TIC n'a en aucune façon conduit à une résorption des fractures, contrairement à ce qui a été longtemps annoncé et qui reste une opinion dominante. Les TIC ne sont pas synonymes d'information, de connaissance et, de façon évidente, ne sont pas associées à une qualité de l'information améliorée. Au contraire, les fractures s'approfondissent. Nous avons montré la disharmonie, la rupture croissante et d'une ampleur extrême entre les horloges technologique et économique d'une part et l'horloge humaine et sociale d'autre part.
Fichier principal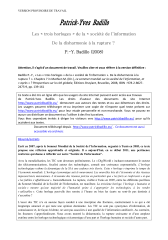 Les_trois_horloges_de_la_sociA_tA_de_l_information_de_la_disharmonie_A_la_rupture.pdf (364.28 Ko)
Télécharger le fichier