L'édition scientifique française en sciences humaines et sociales Une étude réalisée pour le TGE Adonis par le GFII Avec l'appui de M.V. Etudes et Conseil Rapport de synthèse vol.1; vol.2 et vol.3
This study consists of three volumes, aims to collect one data set (on populations of reviews on the economics of publishing in SHS) that can be shared by all actors involved in debates about evolution, in the digital age, of the economic and business models of scientific publishing in SHS. Specifically, the hypothesis considered is an economic and social evolution model to open access.
Cette étude , composée de trois volumes, vise à recueillir un ensemble de données (sur les populations de revues, sur l'économie de l'édition en SHS) qui puissent être partagées par tous les acteurs impliqués dans les débats sur l'évolution, à l'heure du numérique, des modèles économiques et opérationnels de l'édition scientifique en SHS. Plus particulièrement, est étudiée l'hypothèse d'une évolution économique et sociale du modèle vers l'Open access.
Fichier principal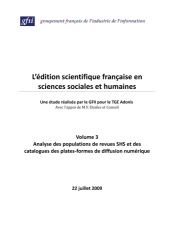 editionsSHS_vol3_analyserevues_090722.pdf (331.05 Ko)
Télécharger le fichier
editionsSHS_vol11_synthese_09_09_12.pdf (369.76 Ko)
Télécharger le fichier
editionsSHS_vol2_tableauEco_091117.pdf (664.96 Ko)
Télécharger le fichier
Synthese_Vol1_def.pdf (791.18 Ko)
Télécharger le fichier