La complémentarité « livres – Internet » dans les pratiques documentaires des étudiants en histoire
Actually, a double process gets the university education. The first one concerns the empowerment of universities (Laws relative to the Responsibilities of Universities, LRU). The second shows itself by the dominion of one complex informative paradigm, too often reduce under the notion of "Information society" or confused with "Internet". However, the specifically scriptural requirements of the system of validation of teachings Educations, distributed show themselves essentially through épistémiques, ethical and methodological frames of the disciplinary fields. How could we envisage the impact of this double movement on the capacities of the students to dead new educational and informative imperatives ? We wish to bring some elements of answer by analyzing the documentary practices of historian students, considered in the whole of the general intellectual practices, registered in a particular épistémique, methodological and ethical environment .
Un double processus touche actuellement le système d'enseignement universitaire. Le premier concerne l'autonomisation des universités (Lois relatives aux Responsabilités des Universités, LRU). Le second se manifeste par la domination d'un paradigme informationnel complexe trop souvent condenser sous la notion de « Société de l'information » ou réduit à Internet. Or, les exigences spécifiquement scripturales du système de validation des enseignements dispensés au sein même de l'université se manifestent essentiellement au travers de cadres épistémiques, éthiques et méthodologiques propres aux champs disciplinaires. Comment dans ces conditions envisager l'impact de ce double mouvement sur les capacités des étudiants à appréhender de nouveaux impératifs pédagogiques et informationnels ? Nous souhaitons apporter certains éléments de réponse en analysant les pratiques documentaires des étudiants en histoire, considérées dans l'ensemble des pratiques intellectuelles générales, inscrites dans un environnement épistémique, méthodologique et éthique particulier.
Fichier principal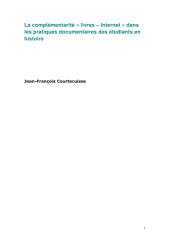 Microsoft_Word_-_JF_Courtecuisse_-_Texte_complet.pdf (112.28 Ko)
Télécharger le fichier
JF_Courtecuisse_-_Texte_complet.pdf (291.72 Ko)
Télécharger le fichier