De la méfiance à la défiance : analyse informationnelle du mythe du complot
The myth of conspiracy becomes an object of study for information and communication fields and particulary for researchers in information literacy. Conspirationnists theses find opportunities for dissemination with the web and some phenomena can contribute to its success as informational behaviour like mistrust against the media and distrust against traditional authorities. We want to show in this article the existence of deceptive appearances between informational skills of conspiracy's theorists and those used in information literacy.
Le mythe du complot devient un objet d'études pour les sciences de l'information et de la communication et notamment pour les chercheurs en information-documentation (information literacy) qui cherchent à mettre en place une culture de l'information. Outre un accroissement des possibilités de diffusion des thèses conspirationnistes facilitées par le web, d'autres phénomènes peuvent contribuer à son succès comme les attitudes informationnelles de méfiance voire de défiance vis-à-vis des médias et des autorités traditionnelles. De plus des apparences trompeuses existent entre les aptitudes informationnelles des théoriciens du complot et celles prisées en information literacy.
Fichier principal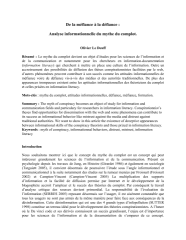 Lemytheducomplo1.pdf (372.12 Ko)
Télécharger le fichier
Origin : Files produced by the author(s)