Communication strategies and mediation devices in the digital age: Towards "open museums" ?
Stratégies de communication et dispositifs de médiation à l'ère numérique : vers des « musées ouverts » ?
In the last fifteen years, museums developed policies to make digital cultural resources available. To facilitate the dissemination and circulation of cultural contents, they adopted the media habits of their audience by relying on electronic artefacts and digital data. They began with local indoor installations, then extended them to websites and social networks and finally went digitally mobile with specific apps. This innovative digital communicational policy blurs boundaries between in-situ physical museums and their digital resources. Our approachis based on several distinct qualitative studies that were conducted between 2012 and 2015. They consist of materials from the fields of observation (professional and scientific publications, socio-technical, statistical surveys) and constructed for research (semi-structured interviews, participant observation, statistical analysis). Two works of participant observation were devoted, firstly, to open data web and, secondly, the two editions (2014 and 2015) of a digital native cultural event, the week of the museums on Twitter ( "MuseumWeek"), organized by the Ministry of Culture and Communication and the American company Twitter. Finally, a case study focused on the use of mobility equipped to Marseille History Museum (2014). These studies was partially funded by the Labex "Les Passés dans le Présent" (http://passes-present.eu/), the French National Research Agency and the cluster Systematic.
Au cours des vingt dernières années, les musées ont largement développé des politiques d'accès aux ressources culturelles en s'appuyant sur des supports et des technologies numériques, qu'il s'agisse d'écrans installés dans les expositions, de sites web dédiés, d'applications développées sur des smartphones, de l'utilisation des réseaux sociaux numériques ou des langages du web sémantique. Nous cherchons à montrer, en nous appuyant sur plusieurs études qualitatives, que l'utilisation, à des degrés d'engagement divers, des artefacts électroniques et des technologies numériques par les institutions patrimoniales et notamment les musées, n'obéit pas à un déterminisme planifié. Elle est davantage le résultat d'un patchwork d'expérimentations, de projets à long terme et d'innovations – parfois sans lendemain. Nous souhaitons questionner l'engagement « numérique » de ces politiques en ce qu'elles pourraient favoriser l'émergence de ce que nous avons proposé d'appeler des « musées ouverts » fondés sur le paradigme de la collaboration participative et de l'accès ouvert à la culture. Notre réflexion s'appuie sur plusieurs études qualitatives distinctes qui ont été menées entre les années 2012 et 2015. Elles sont constituées par des matériaux issus des terrains d'observation (des publications professionnelles et scientifiques, des dispositifs socio-techniques, des enquêtes statistiques) et construits pour la recherche (des entretiens semi-directifs, des observations participantes, des analyses statistiques). Deux travaux d'observation participante ont été consacrés, d'une part, au web de données ouvert, et, d'autre part, aux deux éditions (2014 et 2015) d'un évènement culturel nativement numérique, la semaine des musées sur Twitter (« MuseumWeek »), organisé par le Ministère de la Culture et de la Communication et la firme américaine Twitter. Enfin, une étude de cas a porté sur l'utilisation de la mobilité équipée au Musée d'Histoire de Marseille (2014). Ce travail a bénéficié des financements du Labex « Les Passés dans le Présent » (http://passes-present.eu/), du projet ANR Lyrics et de l'appui du pole compétitivité Systematic.
Fichier principal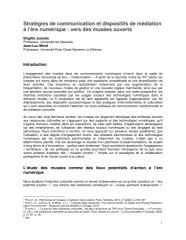 Juanals_Minel_Chapitre_versionA.pdf (777.05 Ko)
Télécharger le fichier
Origin : Publisher files allowed on an open archive
Licence : CC BY NC ND - Attribution - NonCommercial - NoDerivatives