L'internet of Everything (IOE) comme Hyperobjet : immanence ? Fragments de la création continuée du monde
We show by observing in a fragmented way, the unprecedented extension of the internet network which has become "internet of everything" (IOE). IOE therefore as a Hyperobject taking charge of the future of the world and its intelligence. Some of its characteristics are highlighted. And we outline some of its evolutions in the context of the three great ecological crises (in the sense of Felix Guattari) by insisting on decisive variations affecting the intelligence milieus which are the expression of them. The issues raised by developments in biopolitics based on epigenetics, social physics, and the hyper-vectorization of individuals as relational complexes are only touched upon.
On montre en l'observant de manière fragmentée, l'extension sans précédent du réseau internet devenu "internet of everything" (IOE). IOE donc comme Hyperobjet 1 prenant en charge le devenir du monde et son intelligence. Certaines de ses caractéristiques sont mises en évidence. Et on esquisse quelques-unes de ses évolutions dans le contexte des trois grandes crises écologiques (au sens de Felix Guattari) en insistant sur des variations décisives affectant les milieux d'intelligence qui en sont l'expression. Les problèmes soulevés par les développements de biopolitiques fondées sur l'épigénétique, les physiques sociales, et l'hyper-vectorisation des individus comme complexes relationnels, ne sont qu'évoqués.
Fichier principal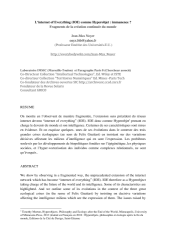 L'internet of Everything Immanence _.pdf (1.02 Mo)
Télécharger le fichier
Origin : Files produced by the author(s)