Digital services governance with AGIMUS
Today 98% of students have access to a bouquet of digital services through their cyberspace. Pending of settlement and maintenance costs, the question arises to measure the usefulness of the panoply of services deployed. If this is straightforward locally for a bunch of services, the same question independently of the technology would offer more details on student's behaviour. From the point of view of an entity providing digital services, at the level of governance or policy makers they may also need other indicators such as the number of services offered and their respective rates of use. We show how to avoid most technical issues, and we deal hereafter with determining the good levels of usage. The Agimus system, an open and free application is used to generate a bundle of indicators. Agimus is based on normative repositories of description of user profiles. We'll show how the device paves the way in a quality approach for improvement of the digital services provided by one or more organizations, the co-construction of knowledge, among others, on the statistical behaviour of the client users. Examples of indicators implemented will be taken on institutions of higher education digital services.
98% des étudiants ont accès à un bouquet de services numériques au travers des environnement numériques de travail. La mesure de l'utilisation des services est pendante de leur coût de déploiement. L'obtention de données d'utilisation locales pour un bouquet de services est relativement directe mais elle est dépendante de la technologie. De surcroît, ces données ne permettent que des comparaisons autarciques et temporelles à usage performatif. Pourtant ce type de données, exemptes de toute considération technologique (et évidemment anonymes), couvrant le territoire ouvrirait à l'analyse comportementale statistique. D'un point de vue du fournisseur de services, au niveau de la gouvernance, il peut être intéressant de construire en sus d'autres indicateurs tels le nombre de services offerts et leur taux d'utilisation respectifs. Nous montrons dans ce qui suit comment déterminer des niveaux d'utilisation de référence au plan national qui permettraient la construction d'une politique d'établissement de développement des services numériques. Le système Agimus, libre et ouvert, est utilisé pour générer des indicateurs. En s'appuyant sur les référentiels nationaux (SISE et Supann), la syndication de données d'utilisations regroupées et normalisées par établissement, puis par Université Numérique en Région (UNR) permet d'établir des mesures indépendantes des technologies et des établissements afin d'élaborer des connaissances sur le comportement des utilisateurs (par filière, catégorie d'usager, par niveau d'étude), de déterminer le degré et la profondeur d'utilisation des services. L'agrégation au ministère constitue un ensemble de référentiels utiles guider la politique de développement du numérique. Les métriques sont issus d'indicateurs fins comparables entre établissements universitaires.
Fichier principal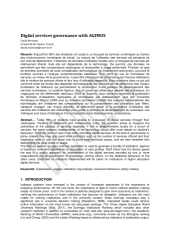 AGIMUS-ECEL-2013.pdf (1.09 Mo)
Télécharger le fichier
Origin : Files produced by the author(s)