TIC et interculturalité dans un contexte en pleine mutation : Cas des sites économiques tunisiens
Abstract This research aims to reflect on the issues related to the impact of ICT on the notion of iinterculturalité addressed in a Tunisian economic and political environment changing. The analysis of Tunisian companies sites in the continuity of the Franco Tunisian USET research project which continued from 2010 to 2012 but plans to find a new theoretical framework more in line with changes in the economic sector in 2012-2013. The Domergan theory that revisits the notion of interculturalism to focus not only on the dimension intersocietal but intrasociétale can approach the analysis of cultural signs business sites from a different perspective and helps explain new values and cultural expressions that thrive in the new Tunisian context.
I TIC et interculturalité Résumé La présente recherche a pour objet de réfléchir sur les problématiques liées à l'impact des TIC sur la notion d'iinterculturalité abordé dans un contexte économique et politique tunisien en pleine mutation. L'analyse des sites d'entreprises tunisiennes s'inscrit dans la continuité du projet de recherche franco tunisien USET qui s'est poursuivi de 2010 à 2012 mais se propose de trouver un nouveau cadrage théorique qui corresponde davantage aux transformations du secteur économique en 2012-2013. La théorie de Domergan qui revisite la notion d'interculturalité pour mettre l'accent non pas uniquement sur la dimension intersociétale mais aussi intrasociétale permet d'approcher l'analyse des signes culturels des sites d'entreprises sous un autre angle et permet d'expliquer les nouvelles valeurs et expressions culturelles qui prolifèrent dans le nouveau contexte tunisien..
Fichier principal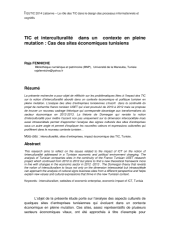 TIC et interculturalité dans un contexte en pleine mutatio1.pdf (350.83 Ko)
Télécharger le fichier
Origin : Files produced by the author(s)