Statistics usage by French academic libraries: a survey
The article presents a survey on usage statistics management in academic libraries in France. The objective is to provide empirical evidence on real methods and processes, best practices and problems experienced by librarians. The survey adapted the Baker & Read (2008) methodology to the French context. One third of the French academic libraries answered to the survey. Results show that usage statistics are crucial for the librarians' daily work. COUNTER reports are mostly used, specifically the JR1 format. Two thirds of the libraries enhance the usage statistics with other data. Librarians face three major difficulties: missing time, lack of usage data produced by French vendors, and need for customized tools. The article contains a short literature review and ends with recommendations for further studies. Its originality is that it is the first published survey on usage data management in France and that it allows for comparison with results from other countries.
L'article présente une enquête sur la gestion des statistiques d'utilisation dans des bibliothèques universitaires en France. L'objectif est de fournir des éléments empiriques sur les méthodes et les processus réels, les bonnes pratiques et les problèmes rencontrés par les bibliothécaires. L'enquête a adapté la méthodologie Baker & Read (2008) au contexte français. Un tiers des bibliothèques universitaires françaises ont répondu à l'enquête. Les résultats montrent que les statistiques d'utilisation sont cruciaux pour le travail quotidien des bibliothécaires. Souvent, ils utilisent les rapports COUNTER, en particulier le format JR1. Deux tiers des bibliothèques enrichissent les statistiques d'utilisation avec d'autres données. Les bibliothécaires sont confrontés à trois difficultés majeures: le temps manquant, le manque de données par des éditeurs français, et le besoin d'outils personnalisés.
Fichier principal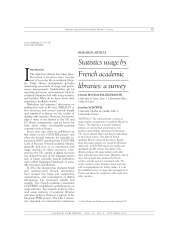 BOUKACEM-ZEGHMOURI_et_al-2012-Learned_Publishing.pdf (95.95 Ko)
Télécharger le fichier
Origin : Publisher files allowed on an open archive