Badillo P.-Y., Tarrier F., Cahier N°1de l'ANR (Préface de la Directrice Générale de l'ANR), Mobilité et ubiquité dans le futur : vers le nomadisme numérique, Paris, juin 2009
A new paradigm of information technology is developing. It is characterised by nomadism, mobility, ubiquity. Technologies such as RFID, NFC (Near Fiel Communication) are disseminating.With digital identities, avatar... we are faced to a new revolution related to media and new media. Social media and social media are also linked to this revolution.
Le cahier de l'ANR présente non seulement les technologies mais aussi les usages liés à ce que l'on a défini comme étant le nomadisme numérique : Nous proposons de définir un nouveau nomadisme : le nomadisme numérique, celui du XXIe siècle. En effet, d'une part les TIC facilitent le nomadisme habituel, le nomadisme humain, traditionnel : dans ce cas l'homme se déplace. Le nouveau nomadisme ajoute une dimension : les TIC sont en mesure de se substituer aux déplacements humains de toute sorte. Elles lui facilitent la vie. Elles lui permettent d'être à plusieurs endroits à la fois. Telle est la problématique de ce cahier spécial : comment les TIC facilitent-elles la vie humaine à travers un nouveau nomadisme, numérique ? Par déplacements de toute sorte on entend aussi bien le fait qu'un cadre supérieur en déplacement pourra disposer de son environnement de travail habituel, que le fait qu'une personne âgée et malade puisse être suivie à distance sans avoir besoin de se déplacer, ou encore que l'on puisse diagnostiquer également à distance une panne dans une usine. Ces derniers cas de figure constituent le cœur de ce que l'on appelle le nouveau nomadisme numérique ; la technologie donne à l'homme une capacité ubiquitaire : il peut intervenir à distance sans être présent en un lieu précis.
Fichier principal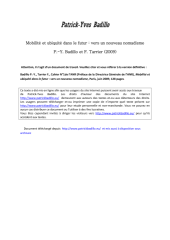 Badillo_mobilite_ubiquite_nomadisme_numerique.pdf (1.54 Mo)
Télécharger le fichier