Web Services for Bibliometrics
Institutional repositories have spread in universities where they provide services for recording, distributing, and preserving the institution's intellectual output. When the Lausanne "academic server", named SERVAL, was launched at the end of 2008, the Faculty of Biology and Medicine addressed from the outset the issue of quality of metadata. Accuracy is fundamental since research funds are allocated on the basis of the statistics and indicators provided by the repository. The Head of faculty also charged the medical library to explore different ways to measure and assess the research output. The first step for the Lausanne university medical library was to implement the PubMed and the Web of Science web services to easily extract clean bibliographic information from the databases directly into the repository. Now the medical library is testing other web services (from CrossRef, Web of Science, etc.) to generate quantitative data on research impact mainly. The approach is essentially based on citation linking. Although the utility of citation and bibliometric evaluation is still debated, the most prevalent output measures used for research evaluation are still those based on citation analysis. Even when a new scientific evaluation indicator is proposed, such as h-index, we can always see its link with citation. Additionally, the results of a new indicator are often compared with citation analysis. The presentation will review the web services which might be used in institutional repositories to collect and aggregate citation information for the researchers' publications.
Les dépôts institutionnels se sont répandus dans les universités où ils fournissent des services pour l'enregistrement, la distribution, et la préservation la production intellectuelle de l'institution. Lorsque le serveur académique de Lausanne, nommé SERVAL, a été lancé à la fin de l'année 2008, la Faculté de Biologie et de Médecine s'est préoccupé dès le début de la question de la qualité des métadonnées. La précision des informations introduites est fondamentale, car les fonds de recherche sont attribués sur la base des statistiques et des indicateurs fournis par le dépôt institutionnel. La direction de la faculté a également chargé la bibliothèque médicale d'explorer différentes moyens de mesurer et d'évaluer les résultats de la recherche. La première étape pour la bibliothèque universitaire de médecine de Lausanne a été de mettre en œuvre un mécanisme pour exploiter les services web de PubMed et de Web of Science afin d'extraire des informations bibliographiques propres à partir de ces bases de données et les importer directement dans le dépôt institutionnel d'une manière simple. Actuellement, la bibliothèque médicale met à l'essai d'autres services web (à partir de CrossRef, Web of Science, etc.) pour générer des données quantitatives sur l'impact de la recherche principalement. L'approche repose essentiellement sur les liens entre les citations. Bien que l'utilité des citations et de l'évaluation bibliométrique soit encore débattue, les indicateurs de la production scientifique les plus utilisés pour l'évaluation de la recherche sont encore ceux basés sur l'analyse des citations. Même quand un nouvel indicateur est proposé, comme le h-index, on peut toujours voir son lien avec les citations. En outre, les résultats d'un nouvel indicateur sont souvent comparés à l'analyse des citations. Notre exposé passe en revue les différents services web qui pourraient être utilisés dans les dépôts institutionnels afin de recueillir et agréger les informations concernant les citations pour les publications des chercheurs.
Fichier principal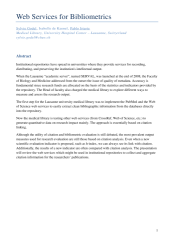 EAHIL_2010_Web_services_for_Bibliometrics_20100615.pdf (897.48 Ko)
Télécharger le fichier
Presentation_EAHIL_2010_Web_services_for_Bibliometrics_20100618.pdf (695.38 Ko)
Télécharger le fichier